Volume XX, No.1
February 2018
Personality Disorder: The Myth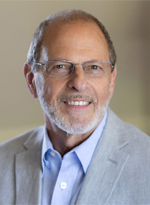 I heard an interview of an author who had written about what he called "high conflict personality disorders." According to the interview, the author is claiming that not all personality disorders are equally problematic. There are what he calls high conflict personality disorders. I'm not sure this is of any real value to us. If Sue or Phil can't ever get along with anyone, does it help to know they are high conflict people? Doesn't that rather go without the saying? The author emphasizes the need to find ways of getting along with these people, no suggestion is made that they might eventually change. Which suggests to me that he may not be accounting for how personality comes to be or how it comes to be disordered. I want to point out one or two difficulties with this idea. But first I want to enlighten the reader on the broader subject of mental health diagnosis, which is central.
Beyond this seeming to me to be another book about nothing, this kind of thing gets my ire up because it reinforces another mental health myth that paints an all too esoteric picture of the workings of the mind, and constitutes a barrier to health. My goal as a counselor, is in part to demystify the issues of mental health, to unveil the normalcy of behaviors, and make mental and spiritual health a matter of common sense for as many as possible; and that would be the vast majority. So what is the myth behind personality disorders, and mental health diagnosis in general?
To begin with, let's establish some common sense guidelines. Categories are only as useful as they are misleading. The benefit of speaking categorically is that it saves a lot of time. Imagine if someone were attempting to describe the vivid colors of an extraordinary coastal sunset. It could take a long time to find the best words to articulate the perfect balance of shades, tones and hue. And, would there be a point, since it would all be subject to the inference of the hearer? Most people would say something like, "It was the most amazing sunset; red sky, against the green ocean." But, is the sky ever simply red? Is the ocean ever simply green? We speak categorically to bypass the inconvenience of situationally less critical specificity. In other words, categories function by ignoring a lot of information. Mental health diagnoses are categories, and they ignore a lot of information. Which is precisely why there is so much overlap of diagnostic criteria.
Mental health diagnoses themselves are made up. The need for diagnosis is largely in the eye of the beholder. That this is not taught to psychology students, and thus not made clear to laymen, is a tragedy that goes on bolstering the mystique and fostering the mistakes of the mental health profession. Most professionals, and the general public view "mental health disorders" as they do physical diseases. In fact, the APA (American Psychiatric Association) has worked very hard to broaden the net of diagnoses, thus ensuring a robust pool of drug-dependent clients, by redefining the term "disease" to include almost any type of emotional discomfort. (See
Manufacturing Depression
, Gary Greenberg and
Destructive Trends in Mental Health,
R.H.Wright and N.A.Cummings)
To exemplify how this works, and the error of it, imagine a cloud that appears to be shaped like some specific animate or inanimate object. Most of us have seen a cloud the form of which resembles some kind of animal or familiar shape": a bear, elephant, question mark, a cross. Suppose we came up with a name for these appearances; we call them form clouds. Subsequently, whenever we see a cloud that has an odd or distinctive form, we say something like, "Oh, look! A form cloud." But it would be irrational to think that there are certain kinds of clouds that take on these familiar forms. There is not really any such thing as a form cloud. We made up the term to represent the phenomena. We should not waste our time researching and writing about various categories of form clouds, some of which only take on the shape of animals, and others of which take on the shape of crosses.
By the same token, once we have agreed to call clouds of distinct shapes "form clouds," it should not surprise us that "form clouds" are clouds of distinct shapes. But again, it would be irrational for us to conclude that we had discovered an anomaly of nature called a form cloud. Yet this is exactly the backward kind of thinking we assume when it comes to mental health diagnoses. We use the term we have invented as if it were a reality we had discovered. Then we marvel at our genius, when our observations seem to corroborate the term. It is somewhat analogous to a man viewing the night sky through an observatory telescope somehow being convinced that he sees stars because stars is the property of a particular type of lens, and the fact that he is seeing stars confirms that unique property of the lens. We need to realize that we have created the entire categorical nomenclature of mental health diagnoses, and to a large extent the reality of it.
Diagnoses are categories we have made up and superimposed over a natural continuum, be that a neurological, emotional or behavioral continuum. The reason there is so much overlap in the symptoms of supposed distinct diagnoses, is that they are not in fact distinct.
The same can be said of personalities, which may also be arranged along a continuum; one that represents the full range of human personality diversity. It is over this continuum the APA has superimposed its constructed categories of ten personality disorders. This method, by the way, applies to any personality measuring apparatus you find in self-help books and seminars - the whole variety of Cartesian Coordinate, x y axis or four-quadrant systems purporting to identify your personality type. Any time you are presented with categories such as extravert versus introvert, or love languages and so on, just know these labels are superimposed over an actual continuous reality. Certainly the categories seem to exist, because the information beneath is real. But the categories themselves are not real; the stars are not the property of the lens; distinct shapes are not the property of form clouds.
The phenomenon of human personality development can be understood as involving a number of interrelated principles. First, at the root of it all, personalities are a defense mechanism. The primary existential rule is that I must survive. To that end, every human belief, emotion and behavior can be seen as related to the pursuit of safety, security, comfort, sustenance - or as I have elsewhere stated, value, control and resource. The development of personality is merely an extension of this pursuit. Second, as to why there are certain types of personalities, we have already discussed how that this is largely in the eye of the beholder. Once we are taught there are certain types or categories, we tend to see personality according to those types. The third principle has to do with how any individual's personality is characteristically stronger. For example, even if you insist there is such a thing as a paranoid personality disorder, not all such people are equally paranoid, or paranoid of the same things. In fact, we are all a little paranoid at one time or other. A so-called paranoid personality is just more paranoid than a "normal person." Disorder is a matter of degree. For this reason, I personally do not recognize "personality disorders," but prefer to speak of more or less disordered personalities.
To make this very simple, think of personalities as a horizontal row of symmetric triangles, as many as you like. Imagine a line across the tops of the triangles, like the snow line across a range of mountains. Everything above this line we will allow to be called a personality disorder - more correctly though, a significant degree of disorder within the personality. Imagine a bisecting line from the peak to the mid base of each triangle. This vertical line represents the core of the personality, the defense mechanism. Along the base of the triangle, the distance from the core to a base angle is personality potential - how far a person can venture from his or her defenses - how vulnerable he or she can be. If you imagine moving two triangles closer together, you will see them begin to overlap at the bottom. The degree of overlap is what we will call relationship potential; one person ventures out from his or her defenses enough to meet someone else the has done the same. It is understood, as we imagine moving the triangles closer together, that the base angle of one triangle will never meet the bisecting line of another. That is, no person can ever voluntarily be completely vulnerable and defenseless in relationship to another person.
It is clear now, that the peaks of the triangles must always remain apart, unrelated and isolated. It is a profound realization that the term personality in all practicality refers to one thing only - how as a person one relates to other persons. And so it follows that the term personality disorder refers to the extent to which one person cannot relate to other persons. Certainly this is a matter of degree. Which is, again, why I think it more correct to speak of disordered personality, instead of "personality disorders." It is also clear that the higher up the triangle you look, the less distance there is from the core to the outer edge (hypotenuse). That is, less room for vulnerability. The higher up, the more restricted, the more the defenses come into play; disordered personality is fear-based.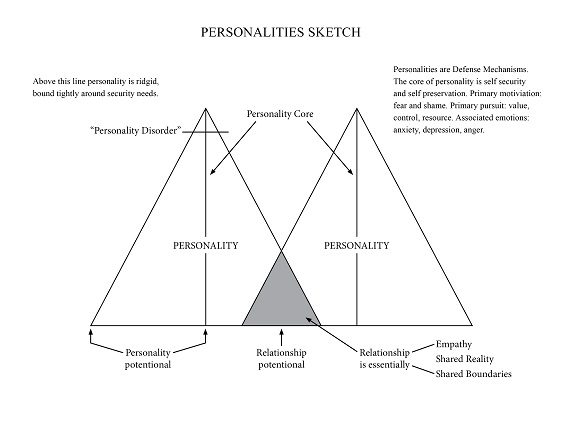 If you pick one triangle and think of it as your own personality, you see how that anyone can be isolated from others by moving higher-up the triangle, so to speak. What this means in practical experience, is that we are less related when we see others as a threat; the converse is true as well. Any person feeling threatened by another will behave defensively. In terms of the triangle we have imagined, the fearful person is up at the top of the triangle. Or, put another way, when a person is fearful, he or she is at the top of his or her triangle. So also is the person with a very disordered personality. The difference is, that the person with the chronically disordered personality never comes down, never relates well, never has intimate relationships.
The radio interview guest was suggesting that certain personality disorders are high conflict personality disorders. This thinking has two errors. First, it wrongly assumes that the APA assigned categories of personality disorder are ontological. They are not. These personalities as such are just points along a continuum, which is verified by the overlap of diagnostic criteria and the need of a great amount of verbiage in the "Differentiation" sections that accompany each supposedly distinct disorder. If we see these personality types not as truly distinct but rather as points along a continuum, then it is no longer a matter of some personalities being more problematic, but of certain personality traits being more problematic, and that by degree. But again, a given trait can be identified at multiple points on the continuum. For example, paranoia can be found in the antisocial, avoidant, narcissistic, borderline and paranoid personality.
The second error is that it fails to consider that what we mean by personality is how we relate interpersonally. And what the APA should mean by "personality disorder," is a person who out of fear of others, cannot rightly relate interpersonally. And so there are not specific ways to deal with each personality disorder, but rather specific ways to deal with each trait of disorder, regardless of the specific type of personality. It is very straight forward, in fact. Because every personality is a defense mechanism and because every person has the same basic fear and shame, the corrective needs for the disordered personality are not different from the maintenance needs of the ordered personality. They are empathy, shared boundaries and shared reality. These lead to trust, security, belonging, and thus intimate relationship and a healthy personality. The difficulty, of course, the thing that is so time consuming and conflictive, is that those with a chronically disordered personality are that way and often remain that way because they are afraid of the very thing that will heal personality - other persons.
COPYRIGHT©DANIEL PRYOR 2018
Read past issues of CCF